Note: All names in the case studies have been changed and permissions given  by parents and pupils
A Yearning for Dad's Attention
Pete lived with both his biological parents but his mother said that he and his dad had 'quite a conflict in their relationship… because they're very similar' and that they were 'like two peas in a pod really.'  She talked about the ambivalence in the father/son relationship saying that while they 'do rub off badly on each other', Pete 'actually adores his dad' and was definitely a 'man's boy'. She then spoke about how Pete's feelings towards his dad had been reflected in the metaphor of some of his stories about Gordon the Gorilla. In one of these a gorilla called Big George who, like Pete, has no friends to play with and keeps 'picking on' other gorillas. The story continues: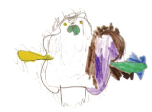 All the other animals had come to fear and be scared of Big George.
When he told them his story he had tears in his eyes.Big George explained to all the others:
"It is not my fault that I am so mean. My Dad's name is Godzilla.
My Dad will not play with me. Every time I ask him he won't play."
The Story Links teacher also highlighted this story and said that in the session, there had been a bit of a joke between Pete and his Mum because Godzilla is what they sometimes called his dad at home. Mum was able to reflect with some insight on this story:
He knows it himself because there is a few problems with him and his dad… he always wants to do things with his dad and of course his dad always can't.
The Story Links teacher had suggested a possible resolution to the conflict in the story with the following ending:
Big George's dad saw him. He called him over to him, "I decided to take the day off to buy a skateboard for you. Come over and see it." Big George was so happy.
Mum said that she was keen for his Dad to read the stories but this had not happened as yet:
I've got them all at home. I keep saying to his dad to have a look at them but… I wonder if he realises what we've actually, I mean I have sort of explained it to him but whether he was sort of listening at the time I don't know.
Written by Trisha Waters