Anxiety around parental separation
In this second case, a mother, who appeared to have had a difficult separation from her husband, came in one week with a story opening that introduced a father figure for the first time in the sequence of stories. Her son spent about a third of his time at his Dad's and the rest with her.
The Story Links teacher recounted how a few weeks into the programme Mum had come in saying 'I'd like to begin the story today because I think he's got these emotional pulls in his life and I think it might be a good idea.'  Her opening went as follows:
Long ago there was a dragon called Fly. One day he was asked to do something very special by his daddy dragon. That was for Fly to look after the treasure that his daddy had been guarding whilst he himself went on holiday.
The Story Links teacher recalled that Mark followed this with:
"Yes", said Fly and jumped up into the air. His daddy warned him," tomorrow you'll have to begin guarding it".
The Story Links teacher said 'That was all he said for that bit which was unusual for him because he usually rambled off.' The story continued with the daddy going to the dragon runway by a control tower and taking off as illustrated in his picture below.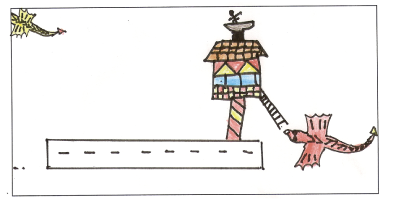 The next time the group met, Mark had said 'I don't want to do another story about a dragon; they're too difficult to draw.' But the Story Links teacher pointed out that  'actually it's not difficult at all, I mean what he's done is easy [to draw].'
It appears that to reconnect with the theme of this story again may have been emotionally overwhelming in that the feelings aroused by the daddy dragon who has taken off may have been too close to the feelings he had about his father leaving the family home.
Written by Trisha Waters